Cool Roof Coating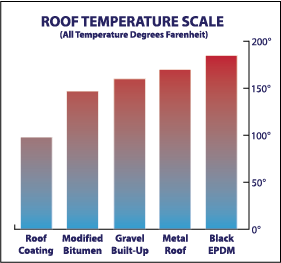 A cool roof is any roof system that combines exceptional solar reflectance with high thermal emittance properties to produce a roof surface that is energy efficient and runs much cooler than a standard roof. Most often, a cool roof is a light or bright white color as this helps with reflectivity. Dark colored roofs are not reflective and absorb most of the sun's heat, UV rays, and solar energy they are exposed to with very little emissivity. This can lead to roof surface temperature that is up to 50°F hotter than a cool roof and can increase cooling costs and reduced interior comfort climate.
Benefits of a Cool Roof Coating
A cool roof coating can benefit the building owner through reduced heat gain which leads to lower energy bills and less wear and tear on the building air conditioning system. This means less roof repair is required and longer life spans for both the roof substrate and the climate control systems.
• Thermal Efficiency Improvement
• Increased Interior Comfort
• Decreased Energy Consumption
• Smaller Utility Bills
• Less Wear and Tear on Mechanical Systems
• Better Reflectivity
• Enhanced Thermal Emittance
• Longer Life Span for Roof and Mechanical Systems
•  Less Roof Maintenance and Repairs Required
• Reduction of Greenhouse Gas Emissions and Air Pollution
• Keeps Old, Deteriorated Roofing Materials Out of the Landfill
Here is an infrared image of a roof coating in progress. Note how the temperatures of the coated portions of the roof are running as cool as the greenery around the building while the uncoated portions of the roof are running as hot as the black roof next door and the asphalt roads.

Even in areas where the days are simply sunny and not necessarily hot, a cool roof coating can add many advantages listed that are not available with traditional roofing systems. And if you add a base coat of spray foam roofing under the cool roof coating, the insulation R-value and energy savings can show significant increases.
Cool Roofing Alternatives to a Cool Roof Coating
Roofing technology has advanced in the last few years and it keeps getting better everyday and there is now a bright white roof single-ply membrane cool roofing option that is every bit as good as a cool roof coating. Single-ply systems are best suited for new or reroofing situations, but can also be used in many other roofing situations as well.